End of Take Aim Mentorship Programme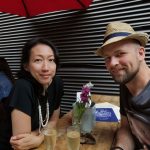 [featured-img]Wait, what? 12 months has just zipped by, and the oft asked "where's the time gone?" comes up again. On 18 September this year we attended our last mentorship day with Glenn Delve's Take Aim team, from whom we learnt all about commercial conversions.
In September 2018 we attended Glenn's Commercial Property Masterclass, and was quite easily convinced that the 12 month mentorship programme was right for us. The fee was a fair amount, so we went to our investors in a seed funding round, and a few great supporters came on board with Lam-bie & Partners to take us to the next level. We promised great returns, which we can say with confidence will be easily met within the time frame.
It has been educational, inspiring and lots of fun. Glenn and his team of mentors – Louisa, Andrew, Greg and Rob provided incredible value and were generous with their knowledge. The calming and effective mindset coaching Karen and the support from the amazing Fiona Ellis made the whole experience very special.
We continue to use the lessons learnt to build our portfolio alongside with our investor partners.
Investors Only
[s2If !is_user_logged_in()]
Below here is some more info for people we know and trust. Check out how to read it here.
If you are already a member, there should be a login button, top left corner. Once you login, you will be returned here for with more content unlocked.
[/s2If]
[s2If is_user_logged_in()]
Thanks for logging in, here is the extra info – if you cannot see it, please ask us so we can sort it out for you.
[/s2If]
[s2If current_user_can(access_s2member_level1)]
Continued Mentorship
One of the biggest benefits of the program is the network of people we met along the way. 
Now that our 12 months programme is over, we continue to meet up with a small group of alumni each month where we mentor each other, access deals and check DAs (Deal Analysers). As a group we now have this solid foundation (pardon the pun!) of knowledge, and so look to one another for advice and support through the whole build process, like getting finance and getting it built. 
The best thing about this is the advice we can pass one another to ensure the best outcomes, plus sharing our values around using more sustainable materials – an amazing opportunity to change the carbon footprint of buildings.
[/s2If]
The following two tabs change content below.
Jun and Craig are the principals of JC Holdings, they are on an adventure in the UK and sharing their experience via this blog for education and transparency. More details about them on the about page here
About us
Latest posts by Jun & Craig Lambie (see all)