Swansea Road – Vision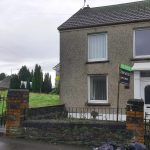 [featured-img]Swansea Road property has a lot of potential and uplift possibilities. Our vision for it is to extend the house, adding another bedroom and bathroom, rearranging the layout to be more modern, with open plan living/ dining rooms, a separate utility room and bathrooms upstairs and downstairs. Our feeling is that this aligns with the demand in that area, and in speaking to local agents, think it will be the most profitable outcome.

Vision
First, we'll get planning approval for the extension, then go for a separate planning application to build a pair of semi-detached homes in the large "yard" or plot of land next to the house. At this stage we have spoken in depth with a local planning consultant and an architect, who happen to be married. Their assessment of the idea of doing a pair of Semi's is that it is possible and should be aligned with the council requirements for the area – so we are given a lot of confidence in the idea to do 2 semi's with a fallback to one detached home if required.
Some of the issues that are likely to come up are the lack of parking, and the local public transport is pretty miserable. As we said in the "Decision to buy" post this area is not our usual choice of inner city, so parking/ driving is almost a requirement. It doesn't help that access to the M4 motorway is easier than getting a bus to the town centre.. Our planning consultant doesn't seem too concerned with this though, and their opinion is that the bus is adequate along with a sustainable transport plan to address any concerns. Given this aligns with our values of sustainable and active transport use to improve health and reduce impact, we agreed to go ahead with the planning application for the pair of semi's.
The following two tabs change content below.
Jun and Craig are the principals of JC Holdings, they are on an adventure in the UK and sharing their experience via this blog for education and transparency. More details about them on the about page here
About us
Latest posts by Jun & Craig Lambie (see all)