Swansea Road – Planning Application 1 – a pair of Semi's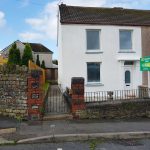 [featured-img]The planning consultant and architect have come up with a design for a pair of semi detached homes for the plot of land next to the Swansea Road property. The consultant is confident we will get planning approval fairly easily as the plot is a good enough size.
The following two tabs change content below.
Jun and Craig are the principals of JC Holdings, they are on an adventure in the UK and sharing their experience via this blog for education and transparency. More details about them on the about page here
About us
Latest posts by Jun & Craig Lambie (see all)